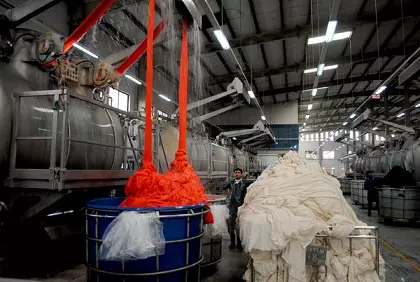 DBL Group is one of the leading companies in Bangladesh booming garments industry.
It is a vertically organized textile group with large facilities in spinning, knitting, dyeing & finishing, printing and garments manufacturing. They are exporting 100% of their garments production in many worldwide known brands.
DBL Group factories are equipped with only high end machinery from EU, USA and Japan, targeting high quality, environmental friendly and low running cost operations.
In 2002 they started their first dyeing and finishing unit, fully equipped with Sclavos Venus fabric dyeing machines.
Since then they are expanding continuously all of their textile operations. Sclavos has become a strategic partner in providing exclusively state of the art fabric dyeing equipment.
In year 2015 they completed a new modern investment in dyeing and finishing, called Color City project.
The whole fabric dyeing section is equipped with Sclavos Athena3 and Athena3A models, incorporated in a fully integrated automation system.
Up to know, Sclavos dyeing machines serve a total dyeing output of 90 tns per day of knitted fabrics, supporting group's garments units.
Low water and energy consumptions along with high quality standards were top priorities of DBL Group for selecting the equipment for their newest project.